Company Profile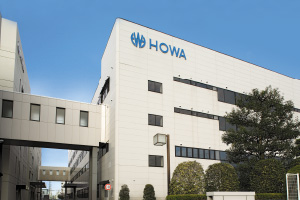 Company Name

Howa Co.,Ltd.
President

Tomoyuki Takada
Head Quater

2-10-4 Ajiyoshi Hakusan-cho, Kasugai-city, Aichi pref
Foundation

7 March,1955
Operation Contents

Marketing・R&D・Production・Sales For, Automotive interior parts
Capital

302,400,000 yen
Sales

77.5 billion yen (FY 2022 total group sales)
Employees

3,369 (Consolidated, as of March 31, 2023)
Main products

Headliner, Dash insulator, Sunshade, Door Trim, Luggage trim, NVH product, and others
Main Bank

Sumitomo Mitsui Banking Corporation, The Bank of Tokyo-Mitsubishi UFJ,Ltd. Mizuho Corporate Bank,Ltd.
President

Tomoyuki Takada

Vice President

Satoshi Hirayama

Senior
Managing
Director

Yutaka Kohama

Managing Director

Akira Kawai

Managing Director

Masaki Ohmiya

Director

Kiyoto Kusano

Director

Kenpei Shinohara

Director

Kazushi Suzuki

Director

Yukihiro Yamashita

Director

Masahiko Yanagihara

Director

Naoki Tani
Business Connection
(By the Japanese syllabary order)
Aisin Seiki Co., Ltd.
Isuzu Motors Limited
FTS CO., LTD.
SUZUKI MOTOR CORPORATION
DAIHATSU MOTOR CO., LTD.
TOYOTA MOTOR CORPORATION
TOYOTA MOTOR EAST JAPAN , INC.
TOYOTA AUTO BODY Co.,Ltd.
Toyota Tsusho Corporation.
TOYOTA BOSHOKU CORPORATION
NANJO Auto Interior Co.,Ltd
NISSAN MOTOR CO.,LTD
NISSAN SHATAI CO., LTD.
Hayashi Telempu Co., Ltd.
Hino Motors, Ltd.
Webasto Japan Co., Ltd.
Honda Motor Co., Ltd.
Mitsubishi Motors Corporation.